Preventative Medicine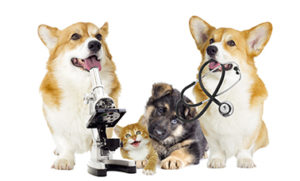 Whether your pet is young or old, preventative medicine is very important to maintain a healthy cat or dog. Certain breeds are susceptible to particular defects or health conditions as they age. Knowing what to look for or being proactive in your pets growth will help maintain a proper quality of life.
A specific diet or additional nutritional supplements may be crucial to the development of your young pet or maintaining an active life for your older one. You can get more information on pet nutrition in our €œPet Nutrition section.
Vaccinations are also a very important preventative medicine to keep your pet healthy. Many diseases are spread through bites of animals or insects, contaminated water and walking areas, or even friendly contact with other animals.
There are many effective preventative medications available for keeping your pet safe from environmental parasites (fleas, ticks, heartworm, etc.). Routinely administered medications can prevent or treat these conditions. You can learn more in the Parasite Prevention & Control section of our website or contact us directly.
To learn more about how we can help you keep your pet healthy and happy, check out our "Services" section or give us a call to schedule an appointment.